It was a strange debate.  My side was size does matter and his was that size doesn't matter.  Sadly we were arguing over a pizza – so take your mind out of the gutter for a moment and let's discuss the old question once again.
Does size matter?
I guess it really depends on what you are talking about and whom you are asking.  A 19 year old surfer might have a completely different view than a 68 year old gold miner.   I asked my kids, "When does size matter?"
This is what I found out from my youngest: size matters for: cookies, clothing, houses, chairs, tables, computers, Wii, TV and of course, ice cream scoop size matters too! My other daughter added: money, chocolate bars, beds, pools, bath tubs, any kind of dessert or yummy food, cruise ships, airplanes and ocean waves ("the bigger the better, unless they are too big and then the smaller the better until they get too small, then the bigger the better until they get too big and then blah blah blah")
So what about pizza.   At my daughter's birthday party we ordered three large pizzas.  When they arrived, two filled their boxes and the third measured only 8.5 inches in diameter.  So a call to Pizza Hut and we learned their position: size doesn't matter "As long as we can cut it into 8 slices it is a large – we have no size control."  (really, he said this, great topic for a debate)
Some Size Doesn't Matter Quotes:
Starwars fans might know Yoda's view on the subject:
Size matters not, … Look at me. Judge me by size, do you? — Yoda quote
Finding clean and amusing "size doesn't matter" laugh quotes presented quite a challenge.  Here are my favorites size doesn't matter quotes:
"An optimist will tell you the glass is half-full; the pessimist, half-empty; and the engineer will tell you the glass is twice the size it needs to be" – Anonymous
"It is not the size of a man but the size of his heart that matters." — Evander Holyfield
"I hope if dogs take over the world, and they choose a king, they don't just go by size, because I bet there are some Chihuahuas with some good ideas." — Jack Handy
We are still without an answer, so let's explore some  comedy shirts and see if they can answer the question – Does Size Matter?
Size Doesn't Matter Quotes on Funny Shirts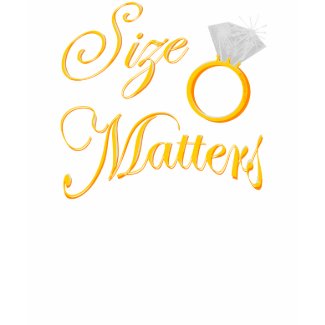 Size Matters Diamonds from Soge Shirts.
.

Drunker I sit here by BunnyBoiler
.
Imagine this next one on a pregnant mom and it sure has a different meaning.
So, what are your thoughts – Size does matter, or no, size doesn't matter? Which was your favorite of the laugh quotes?
Related Links: